VihtaVuori N555 Smokeless Rifle Powder 8 Lb
VihtaVuori N555 Powder 8 Lb by Vihtavuori
We now carries the VihtaVuori N555 Powder  in stock now for sale. The VihtaVuori N555 Powder 8 Lb is designed for precision rifle platforms chambered in cartridges such as 6mm Creedmoor, 6.5 Creedmoor, .284 Winchester, .260 Remington and .30-06 Springfield and for rifle calibers with large case volume and comparatively small bullet diameters, among others. Competitive shooters and hunters will benefit from the powder's insensitivity in extreme weather conditions.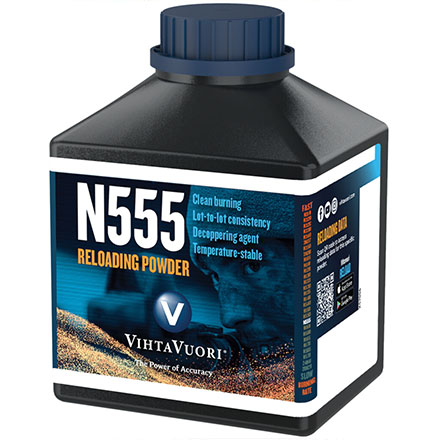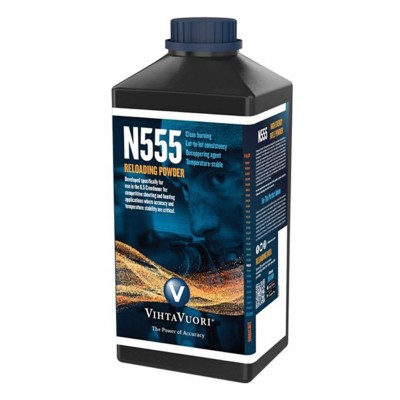 The most temperature stable reloading powder in its class, VihtaVuori N555 Powder features unprecedented performance in the 6.5 Creedmoor. Like all our reloading powders, VihtaVuori Reloading N555 Smokeless Rifle Powder includes an anti-fouling agent that minimizes barrel fouling to extend the length of your competitive shooting stages.
The unmatched lot-to-lot consistency of the N555 also eliminates costly range time re-developing your favorite loads. The energy content of VihtaVuori Reloading N555 Smokeless Rifle Powder is 3.700 J/g, bulk density is 900 g/l.The burn rate of VihtaVuori Reloading N555 Smokeless Rifle Powder is between VihtaVuori Reloading N550 Smokeless Rifle Powder and VihtaVuori Reloading N160 Smokeless Rifle Powder.
Compare